Installing MailVault
Note: For now, these instructions are for Microsoft Windows platforms only.
Installing and setting up MailVault is easy.
Double-click the installable to start the installation process. Follow the instructions to complete the installation and to create a shortcut MailVault icon on the desktop. The default installation location isC:\Program Files\DigitalGlue\MailVault.
Start MailVault by double-clicking it's shortcut icon. On it's first startup, MailVault needs two pieces of information to be confirmed by you:
The port on which to run it's webserver (default is 8080)
The location of your mail archive, logs, and other dynamic data (default is under the installed location)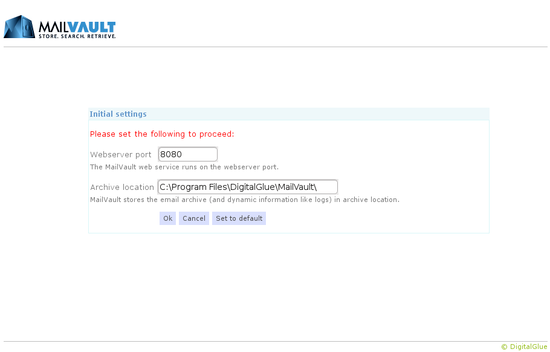 Initial Settings for MailVault
Our advice would be to keep the archive location away from and out of the program installation location – preferably on a separate partition, where there is enough space to hold all the mail you plan to archive.
Once these settings are confirmed, MailVault starts up into normal operation. Simple on-screen hints are available to assist you in completing the basic recommended configuration.
MailVault is now running in demo mode (as indicated on the upper right corner of your screen). In demo mode, more or less all the functionality is available – the limitations being that you will be able to create only two other users and MailVault will archive up to 1000 messages only.
If you have a license file (evaluation or commercial) – normally emailed to you separately – you can deploy it by copying it into the configuration folder under the MailVault location (in this example under C:\Program Files\DigitalGlue\MailVault\config). You must ensure that the license file is named license.
Restart MailVault. The Demo version on the top right corner of your browser, should now be replaced by your company name.